MY FPV SETUP
Trying to figure out what components are needed and how they should be connected – 26.8.2013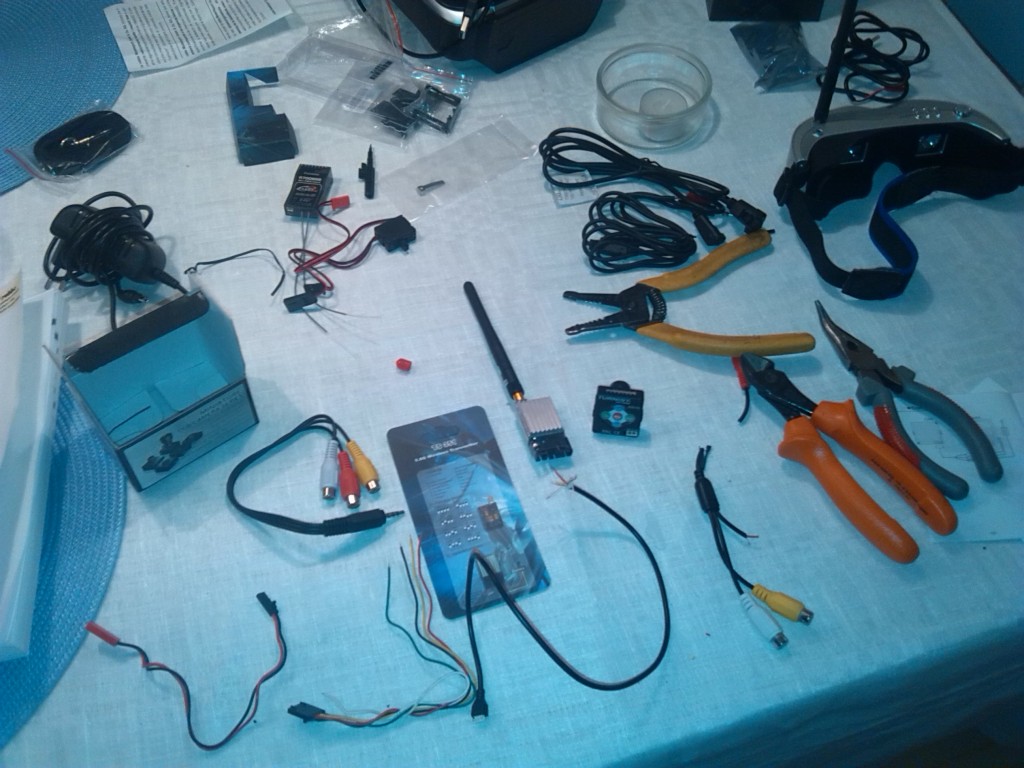 Soldering the camera cable to transmitter´s cable – 27.8.2013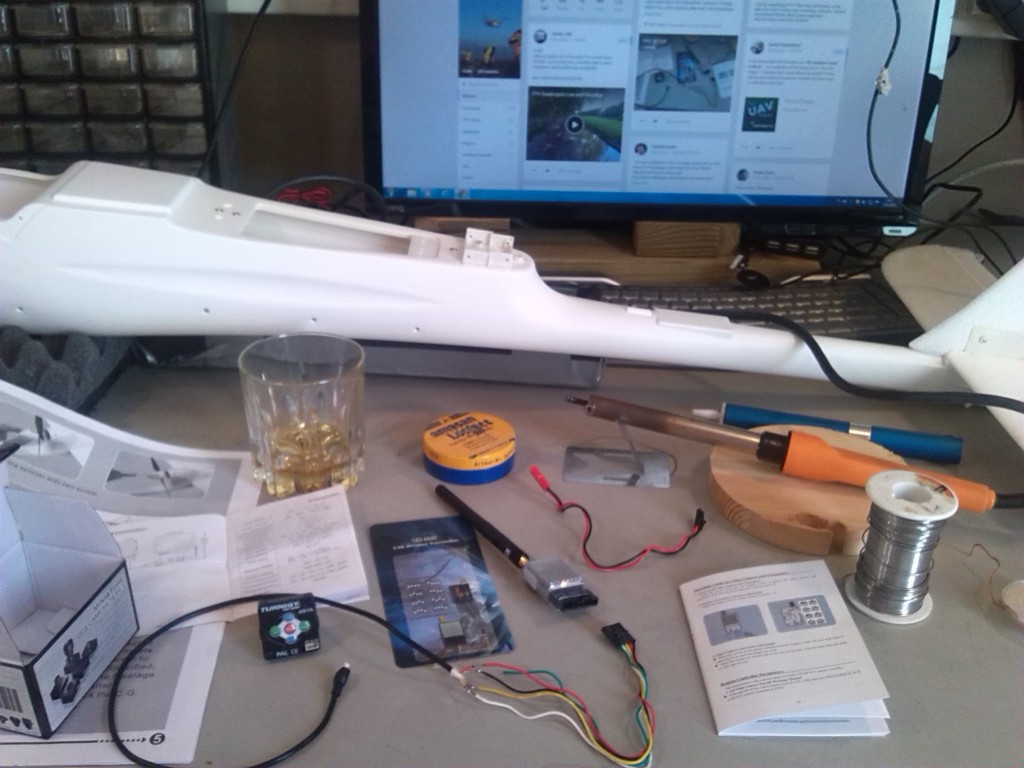 I soldered the small wires with the help of anti-vibration liquid
First test 28.8.2013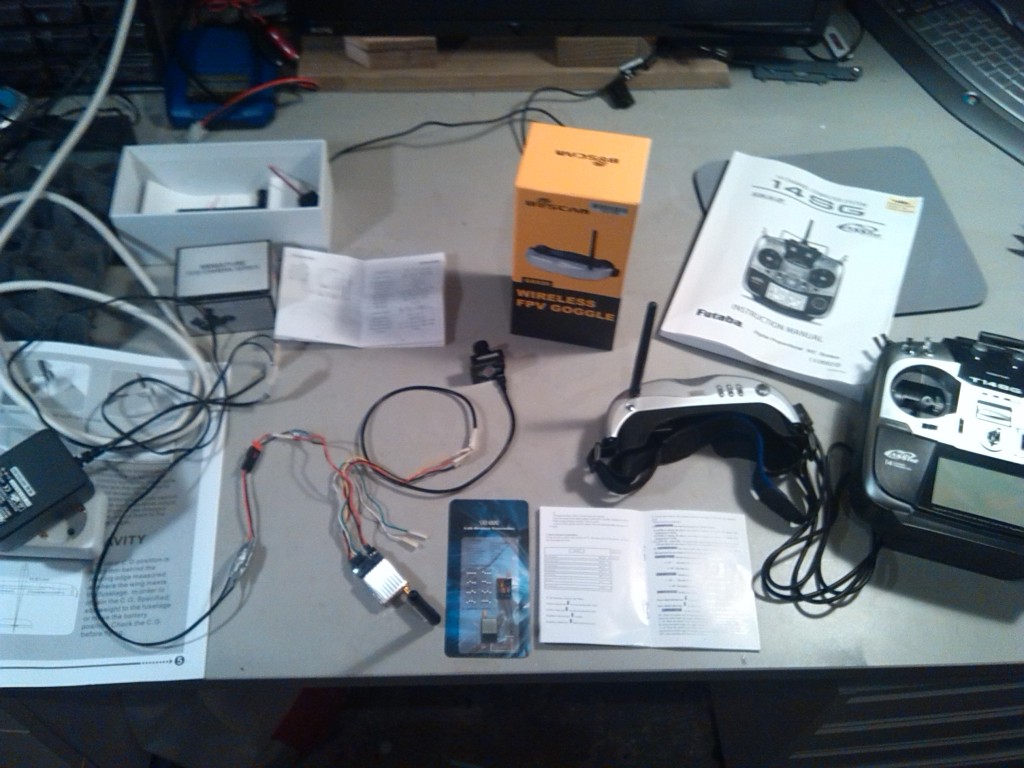 To test the setup, I used an old transformer 12 V and 1 A.
Goggles are powered from the Futaba transmitter using the data cable from trainer port to goggles. Goggles had 5.8 GHz by default and you can switch between channels by rotating the selector knob. I used the ch1 5705 GHz that was the transmitter´s default setting. Everything started to work otherwise well but there was rippling in all the light areas and almost all the colors were missing. Only black areas were good. I need to investigate next if there is some sort of reset for the camera.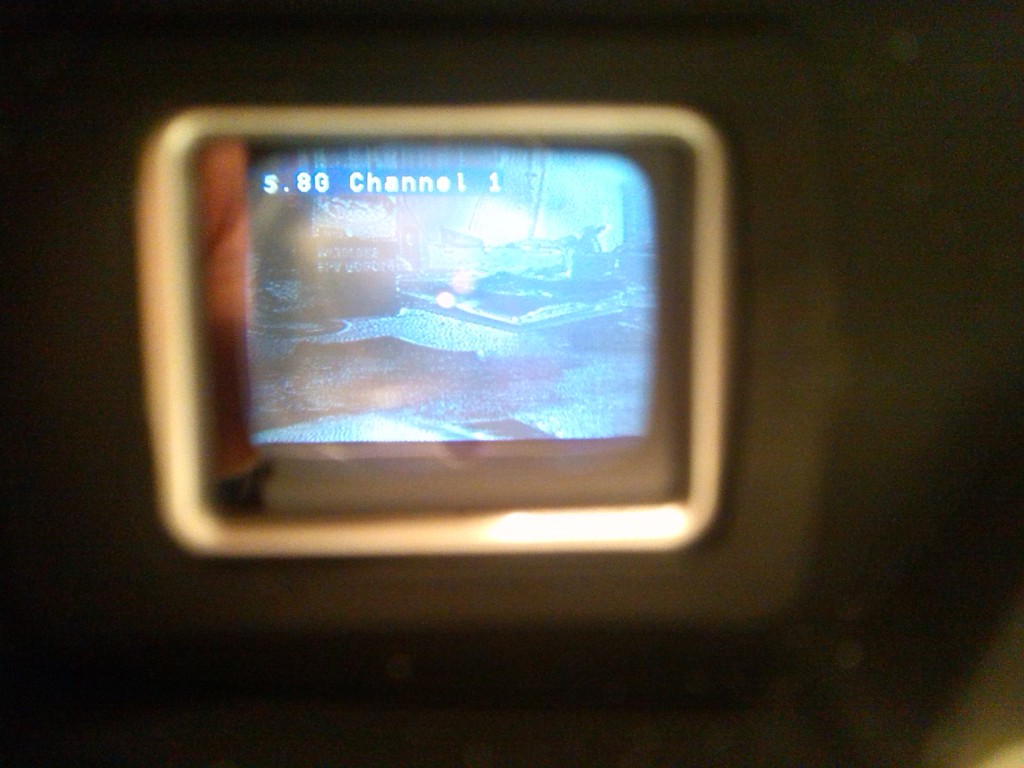 Going to try if this helps
http://www.youtube.com/watch?v=1CPmYg6SSpk
UPDATE 30.8.2013:
Problem solved. The knob on the goggle is in wrong position. Goggle channel 6 should be 5905 MHz but it is 5925 MHz. Now I have the transmitter set to CH7 and goggle set to CH6 and it works great!
Next step is to update the antennas
http://www.circular-wireless.com/en/conceptos-sobre-antenas/configuraciones-recomendadas/
——————————————————————————————————————-
SPECS FOR MY FPV GEAR:
GOGGLES:
Discussion http://www.rcgroups.com/forums/showthread.php?t=1343478
Foxtech AIO
These video goggles give you a high resolution display. It's just like you were flying the plane/heli yourself!
And because these goggles are 5.8Ghz ready, they wont interfere with your current 2.4Ghz system!
These 640×480 resolution 2.4/5.8Ghz Dual Receiver 8ch video goggles come with a true full colour micro LCD panel and a silicon rubber shield for blocking sunlight, giving the user a rich 80 inch virtual screen display perfect for high-end FPV flight.
A compact and light-weight design, Adjustable volume, Brightness and Contrast plus they can be powered by the Tx and include full anti-drift head-tracking via your transmitter!
Powered by your TX or an 8~13V input these goggles are equipped with the dual Audio/Video receiver module, just use the appropriate antenna provided with the kit and set the frequency from 2.4 to 5.8Ghz in the OSD (On Screen Display) menu and you will be ready to receive the video from your FPV transmitter.
These goggles are perfect for a screen overlay Data Expander (like eagletree) due to its large 640×480 size high resolution screen.
Spec.
Display resolution: VGA 640×480 RGB, 922k pixels
Field of view: 32 degree
Virtual image size: 80 inches
Frequency: 2.4GHz / 5.8GHz (selectable)
Audio & Video:  input/output
Input voltage: 8~13V
Channels
2.4G : 2414,2432,2450,2468,2370,2390,2490,2510MHZ
5.8G : 5705,5865,5665,5645,5885,5905,5925,5945MHZ
1 x 640×480 8ch 2.4/5.8Ghz True Color Video Goggles
1 x Data cable (External Power & Headtracking)
1 x Power Cable for Lipo battery
1 x Antenna for 2.4GHz
1 x Antenna for 5.8GHz
————————————————————————-
FPV CAMERA:
Turnigy Micro FPV Camera 600TVL (PAL) – url
The Turnigy Micro FPV Camera uses the same high quality components and optics as our other leading brand FPV cameras. Now available in super sharp 600TVL resolution these cameras offer one of the most vivid FPV flying experiences available today.
Optional 2.1mm, 2.5mm and 2.8mm Lenses are sold separately, see related items below.
Specs:
Camera Type: Colour PAL
Scanning System (H): PAL 15.625Khz
Scanning System (V): PAL 50Hz
Pick Up Device: 1/3″ Sony Super HAD CCD*
Pic Elements: 752(H) x 582(V)
Resolution: 600TV Lines
Min Illumination: 0.1 Lux / F2.0
White Bal: Auto (2,400k~8000k)
Lens: 3.6mm
Dimensions: 34x34mm
Weight: 34.2g
Voltage: DC5v~15V
Power: 130mA

OSD Programming cable coming soon.
"Super HAD CCD" is a trademark of Sony Corporation. The Super HAD CCD is a version of Sony's high performance CCD HAD (Hole-Accumulation Diode) sensor with sharply improved sensitivity by the incorporation of a new semiconductor technology developed by Sony Corporation.
CONNECTING THE CAMERA TO THE TRANSMITTER
Cut the RCA:s away from the camera´s cable: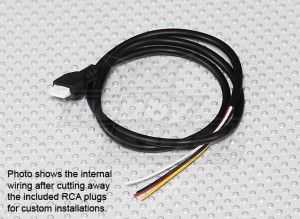 ——————————————————————————————
FPV TRANSMITTER:
5.8G 200mW FPV Transmitter 
Boscam 5.8Ghz 200mW transmitter. This system is Good for up to 500m flying with the supplied antenna. An optional directional antenna can extend range to 1km+. This unit a Includes built-in microphone.
Specifications:
Video Format: Pal/NTSC
Output impedance: 50Ohm
Output power: 21~23dBm
Channels: 8 
Transmitter operating voltage: 7~15VDC / 150mA
Video bandwidth: 0~8.0MHz
Audio frequency: 6.5MHz
Video input level: 0.8~1.2Vp-p
Video input impedance: 75Ohm
Audio input level: 0.5~2.0Vp-p
Audio input impedance: 10K/Ohm
Weight: 25g
Antenna connector: SMA
Dimensions: 55x26x17mm
Channels
5.8G : 5705,5865,5665,5645,5885,5905,5925,5945MHZ
PRODUCT ID: 263000002
———————————————————————————
 OSD – ????
—
Links
https://sites.google.com/site/djoproductionsrc/the-complete-fpv-beginner-s-guide
———————————————————————————–