Tänne on kerätty erilaisia ideoita pihaprojektia varten
—————————————————————————————————————
——————————————————————————————————————-
——————————————————————————————————————-
——————————————————————————————————————-
IDEA BANK – Some ideas for the garden:
Ideas for the path – gravel with low edges

Ideas for the creek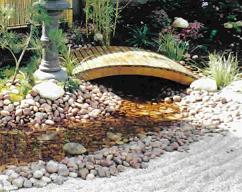 "Puroja ja putouksia rakennettaessa tulee ottaa huomioon veden kiertomatka, puron leveys sekä nousut. Pumpulla täytyy olla riittävä suorituskyky, jottei purosta tule noroa. Purojen ollessa kyseessä veden virtauksen tulisi olla vähintään 1000 l/h leveyden jokaista 10 cm kohti."
Some plant options


+ also lichen?
Ideas for the lights
Link to verkkokauppa.com solar power lights